Dear child of God,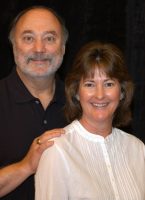 Though I was only 12 years old at the time, I have vivid memories of my father and grandfather being very pleased with me because I had gotten straight A's on my report card. As a reward, grandpa gave me a rich-looking alligator hide wallet and dad gave me a $10 bill to put inside. I recall both saying they loved me, and that they were pleased I belonged to them. I also remember taking money out of my piggy bank, combining it with the $10 from my new wallet, and exchanging that money for $1 bills so my wallet would look full of cash. I knew it would make me feel like a millionaire at the penny candy store!
I still remember those gifts every June as Father's Day draws near (it's celebrated the third Sunday of June in many countries). That memory gets me thinking about my dad, my grandpa, and our heavenly Father's love. But there is more to the story.
Not a week passed after I was given the wallet and cash before I lost both. I was grief-stricken! They must have fallen from my back pocket while I was at a movie theater with friends. I searched high and low, retracing my steps. I continued searching for several days, but the wallet and cash were nowhere to be found. Now, some 52 years later, I still feel the pain of that loss—not because of the monetary value involved, but because as gifts from my grandpa and dad, they held great sentimental value. What's interesting is that the grief lasted only a short time, but the fond memories of the love expressed toward me by my grandfather and father have endured.
Though I appreciated their generous gifts, I cherished the love expressed by my dad and grandpa. Isn't that what God wants for us—to cherish the depth and richness of his unconditional love? Jesus helps us understand the depth and breadth of that love in his parables of the lost sheep, the lost coin, and the prodigal son. These parables, recorded in Luke 15, demonstrate the heavenly Father's passionate love for his children, and show how God enjoys finding those who are lost. In doing so, these parables point to the incarnate Son of God (Jesus) who came to find us and take us home to his Father. Jesus not only reveals the Father to us, he reveals the Father's desire to come to us in our lostness and bring us into his loving presence. Being pure love, God never stops calling our names with his love.
As Christian poet and musician Ricardo Sanchez wrote, "The devil knows your name but calls you by your sin. God knows your sin but calls you by your name." The voice of our heavenly Father comes to us by his Word (Jesus), through the Spirit. The Word judges the sin in us, overcoming it and sending it away (as far as the east is from the west). Rather than condemning us, the Word declares God's forgiveness, affirms us and sanctifies us.
When our ears (and hearts) are attuned to the living Word of God, we are able to understand his written word, the Bible, as God intends—and he intends that it convey the message of his love for us. This is made clear in Romans chapter 8, one of my favorite passages of Scripture. It begins with this declaration: "There is therefore now no condemnation for those who are in Christ Jesus" (Romans 8:1 ESV). It then ends with this powerful reminder of God's never-ending, unconditional love for us: "For I am sure that neither death nor life, nor angels nor rulers, nor things present nor things to come, nor powers, nor height nor depth, nor anything else in all creation, will be able to separate us from the love of God in Christ Jesus our Lord" (Romans 8:38-39 ESV).
We are assured that we are "in Christ" (we belong!) as we listen to the voice of God in Jesus, who said this: "When he has brought out all his own, he goes before them, and the sheep follow him, for they know his voice. A stranger they will not follow, but they will flee from him, for they do not know the voice of strangers" (John 10:4-5 ESV). We hear our Lord's voice and follow him as we read his words and know that it is him talking to us. Reading Scripture helps us know we are in relationship with God because that is his desire, and this reassurance brings us closer to him. Through Scripture, God speaks to us, affirming his love by confirming that we are his beloved children. We know it is God's voice we are hearing when we are led to express love toward others, and as we experience increased humility, joy, and peace—all of which we know originate with God, our Father.
Knowing that our heavenly Father is calling our names as his beloved children motivates us to live as Paul described in his letter to the church in Colossae:
Put on then, as God's chosen ones, holy and beloved, compassionate hearts, kindness, humility, meekness, and patience, bearing with one another and, if one has a complaint against another, forgiving each other; as the Lord has forgiven you, so you also must forgive. And above all these put on love, which binds everything together in perfect harmony. And let the peace of Christ rule in your hearts, to which indeed you were called in one body. And be thankful. Let the word of Christ dwell in you richly, teaching and admonishing one another in all wisdom, singing psalms and hymns and spiritual songs, with thankfulness in your hearts to God. And whatever you do, in word or deed, do everything in the name of the Lord Jesus, giving thanks to God the Father through him. (Colossians 3:12-17)
God's voice leads us in the direction of his always-present fatherly love—a love poignantly celebrated by comedian Michael Jr. in the Father's Day video embedded below. Some of you will remember that Michael Jr. entertained us at one of our international conferences several years ago.
On Father's Day (and every day), let's remember that our heavenly Father created us in order to love us. As the loving Father that he is, he wants us to hear his voice so that we can live the abundant life that is ours in relationship with him—knowing that he is always for us, always with us, always loving us.
Always remember that your heavenly Father has given everything to you in and by his incarnate Son, Jesus Christ. Unlike the wallet and the cash that I lost those many years ago (they were temporary), God's gift to you (and me) is permanent. Even if you momentarily lose sight of his gift, your heavenly Father is always there—knocking, seeking, finding you (even if you are lost), so you may fully appreciate and experience his gift of unconditional, never-ending love.
Wishing you all Happy Father's Day,
Joseph Tkach